The Marine Five Star Dealer Certification Program has been created to give the consumer "peace-of-mind" when purchasing and/or servicing a boat. A Marine Five Star Certified Dealer is committed to your satisfaction and will ensure that you are selecting a dealership that is committed to your satisfaction.
For Great Bay Marine to become a CERTIFIED dealership, we had to demonstrate our commitment to excellence by meeting and exceeding the high standards of Customer Satisfaction, Quality of Service, Professionalism,Facilities & Equipment and superior Follow up.
We also had to pass independent, third party evaluations and testing showing that customers can expect to find friendly, knowledgeable staff, quality products and reliable service.
Confidence & Professionalism
Great Bay Marine, has been awarded the MARINE FIVE STAR DEALER CERTIFICATION - This Five-Star Certification Award certifies that we have professional documented processes in place that guarantee your overall experience at Great Bay Marine will be rewarding and memorable.
A certified marine dealership must meet special criteria to retain this certification.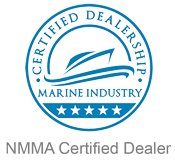 As an example, a marine dealership shall continually demonstrate a commitment to excellence in in both sales and service to our customers. With more than 30 years in business, in this same location, our FIVE STAR CERTIFICATION is a testament to our unconditional commitment to the entire marine industry.
Just another reason to allow Great Bay Marine the opportunity to serve your boating needs.